In the early part of 2020, everyone is talking about COVID-19, the new name for the Novel Coronavirus that was first detected in Wuhan, China. It has since caused the whole world to step up its precautionary measures to contain the spreading. We are saddened by the more than 1,500 deaths and 50,000 or more infected and many of them are still in the ICUs.
Businesses around the region, especially those in the travel, hospitality, and F&B industries are severely impacted. People are worried to travel, workers are asked to stay and work from home.
During this period, there are, in my opinion, 3 groups of people that are extremely busy:
1. Front-line crew working in hospitals, airports, and borders as well as cleaners.
They work around the clock to care for the patients, ensure people coming into Singapore are healthy, and making sure our environment is cleaned.
2. The second group are those that emptied the shelves in the supermarket.
They bought all the toilet papers, surgical masks despite the assurance given by the authority that we have sufficient stock in our national supply.
3. Cybercrooks.
This group of people is professional hackers taking the opportunity of this vulnerable situation and particularly when people are fearful, fake news is spreading and uncertainties are looming everywhere. They exploit and have successfully achieved to steal vital information from their victims around the world.
HOW DID THEY DO IT SO SUCCESSFULLY?
They adopt a technique called Phishing and many of us fallen into this scam simply because they believe the email is legitimate
The following email example (credit: Paul Ducklin) is a typical example of a Phishing email. They exploit the current situation about the Novel Coronavirus and make you think that the email is sent from The World Health Organisation (WHO), a highly reputable organisation.
But in reality, this email is FAKE NEWS!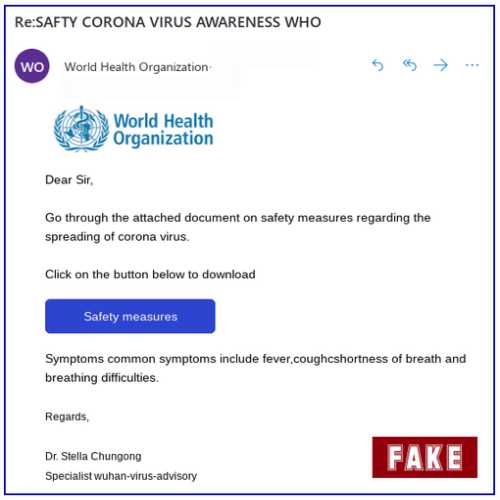 Are you able to tell if the email is a Phishing email or not? Can you differentiate a fake website from the official website?
So how can you and your employees prevent from falling into the traps and disclose confidential information away.
The following are some simple ways to follow:
– Do Not click the link if you suspect the website is compromised
– Mouse over the sender's email to uncover the real email address being used (this works only on desktop)
– Use 2FA (two form authentication) for all sensitive websites, e.g. bank and government
– Always educate yourself with the latest threat and the way to protect it
On 16.May.20, ChannelNews Asia (CNA) reported that there is a rise in phishing scams during circuit breaker and that SingPost and Starhub are the two top companies being impersonated here. Click here for the news.
Burgeon Bricks has the right products and training that you can use immediately to protect against this scam that is happening every single day.
This latest product gives you the following benefits:
Comprehensive Report
Understand your organisation's security health at one glance
Report Phishing from Outlook and Outlook 365
Turn all employees into an active line of defense against email phishing attack
Cyber-security Awareness Training
Finding and training the employees who exhibit the riskiest behavior in an organisation